Real Housewives of Atlanta is Back And Of Course I Watched!
Last night was the premiere of the newest season of Real Housewives of Atlanta and I was READY for it! I didn't realize how much I've missed the antics of Kandi Burress, Phaedra Parks, Kim Zolciak, Cynthia Bailey and Nene Leakes. Sheree Whitfield got the boot after last season, and I truly hope she's occupying LinkedIn now that she's unemployed. You know She by Sheree ain't no revenue generator in this recession. Po' thang. To replace her, there's a newbie this season: Kenya Moore. But I'll get to her later.
Well, actually there's another newbie named Porsha but she wasn't in this first ep. Guess we'll meet her next week.
He ain't nothing but a golddigger – Nene and Gregg's divorce is now final, but it isn't keeping the two of them from knocking boots. as they sit in Nene's kitchen, Gregg is trying his darndest to get in her good graces in a way we haven't seen before. Must be because she's now collecting that REAL (not reality) TV checks with her gig on Glee and The New Normal. Lemme find out Gregg is a golddigger who's tryna mess with that rich negress.
Kandi's got a man at home – And he is good to her. Our girl Kandi is now in a happy relationship with a TV producer named Todd. She met him last season on their trip to Africa and they're now happily in love. So much so that he's about to move into her house, giving up his place since they spend every night together anywhere. GET YOURS, KANDI! I ain't mad atcha. I am, however, mad that they were talmbout if they were to have a bid, they'd name he/she "Cash" because that's how they paid for their house. LAWD. O_O
Kim and her hapless help – Kim is knocked up with another baby, letting us know her and Kroy stay humping like teenaged rabbits. They're looking to move out their newest house (again) and Sweetie is on hand as an assistant who doesn't ever do anything to assist. That child is Tommy from Martin. With a bad weave. She ain't GOT NO JOB. Her business card is clear. They get a quote of $100,000 from a moving company and Kim loses her cool. You'd think Sweetie would be looking for other price quotes but she sits there looking and being as useless as a broken butter knife. Womp.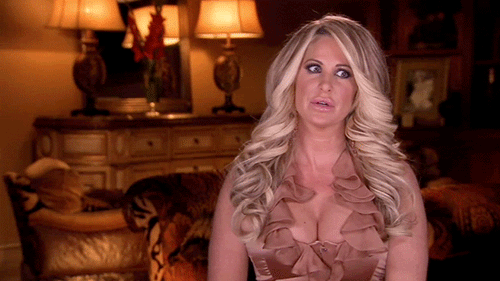 The Vera Wang of Funerals – If Phaedra Parks ain't bout nothing, she is about her money. As she grows her mortician business, she expands beyond people and wants to be of service to animals too. Phae talmbout she wants to be the Vera Wang of funerals. Ma'am, I can't e'em hate on your hustle.
Homeschool showdown – Cynthia's daughter's father, Leon (yes THAT Leon) comes to visit Atlanta and is staying with them. She tells him that she's decided to homeschool Noelle and he strongly disagrees, thinking she'd be better off at school. When Noelle joins them in the kitchen, she says she never wanted to be homeschooled. WELP! Might have helped to ask her before, Cyn. Also, anytime I see Leon, I wonder what VH1 biopic I'm watching. It's not my fault.
Oh. Hey Kenya – We get introduced to newest castmember, Kenya Moore. She was formerly Miss USA but is really more known for being a juicy booty on the cover of magazines like "Smooth." She talmbout she's a producer and director? PRODUCING AND DIRECTING WHAT??? I DEMAND some receipts cuz… O_O. She's beautiful but there's something about her look that's off-putting. Maybe it's cuz her legs look like Derek J's. When the camera showed her legs, I thought his face was next. No shade. Just saying.
Balling on a budget  – Kandi invites Kim over to see her new house, which isn't furnished or move-in ready. The house is actually TWO that she bought and joined together and it's actually impressive. Plus, she bought it while on foreclosure so it was a great deal. And this is why Kandi is WEALTHY. These other broads might be rich but Kandi got WEALTH. As she gives a tour, Kim's talmbout how Kandi lives in the hood and she had to lock her door. I Don't come for my girl! She paid cash for two houses and is HAPPY to be in them while Kim has moved bout 4 times in 2 years but she wants to throw shade. And about Kandi's indoor pool, she says "If I was black, I'd have a pool inside my house too." KEEP IT CUTE, KIM!
Nene moved on up – Nene's in Beverly Hills meeting with Ryan Murphy, creator of Glee and the New Normal for lunch. Our girl don moved on up to the West Coast! She thanks him for changing her life and I'm actually proud of her. She's used this reality TV platform to get more, which is more than most do. Kudos, Lenithia!
Jet Bitchy of the Week – Jet Magazine is looking for a Jet Beauty of the Week and they ask Cynthia Bailey to do a casting call at the Bailey Agency. They invite Kenya to be a judge and she proceeds to show out! She becomes the Simon Cowell of the judging table, insulting the girls as they come out and it's not one ounce of cute. Her extra ass tells one girl "How do you come to an audition showing your coochie crack?" It's odd coming from someone who's made so much of her own coins showing HER coochie crack, but how soon we forget, right?
I get it though. Kenya Moore has made up her mind that she'll be this season's villain so she can up her checks for next season. THAT is what is really at play here. She's clearly making herself the new one to hate cuz it'll mean they'll want her back and it's so obvious.
According to the previews they showed, this season is gonna be ratchetness central. And I AM HERE TO RECEIVE IT! I know Kenya's gonna get on my last nerves very soon though. Ugh.
Anywho, did y'all watch last night's RHOA? Whatcha think?