10 Awesomely Hilarious Election Night GIFs. You're Welcome!
One of the best things that come out of any major event are the memes and the gifs that sprout up all over the web afterwards. I mean it. The internet excels and unites about few things and those are usually things of foolery.
The re-election of President Barack Obama churned out so much awesomeness in terms of moving imagery that I was forced to document it. So I bring you this list in no particular order.
10 Best Election Night Gifs
1. The Otis Scream celebration gif
I feel like Joe Biden was born to do the Otis Scream. Don't you? In fact, I'd pay to hear a recording of him doing it.
2. The Presidential jig gif
I imagine President Obama doing this jig backstage before he hit the stage for that awesome acceptance speech. Yes.
3. Put a vote on it gif
America liked it so they put a vote on it. OH OH OH!
4. Stay mad gif
Mitt Romney supporters are currently boiling about this re-election and they've been vocal about it. They can STAY MAD!
5. No Ohio for you gif
Because Ohio said "NAWL, Mitt!" Welp!
6. The Fist Punch gif
Because some Republicans are acting like they wanted to punch all Democrats in the head. The way they've taken this loss has been shameful.
7. We're not sorry gif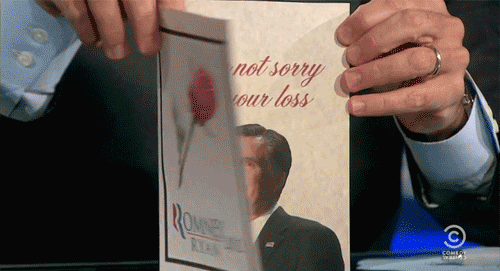 I'm counting this as one gif because they go together. But agreed, Stephen Colbert. We're not sorry for this loss. In fact, we're ecstatic by it.
8. Rubbing it for Mitt gif
Because Comedy Central is hilarious. And they enjoyed rubbing the loss in Mitt's face.
9. Flag in weave lady gif
Look behind Barack and behold the lady with the flag in her kinky weave. She was a distracting presence throughout the speech as everyone wondered why she couldn't just wave it like everyone else. That flag was unmoveable, like her support of the President I guess.
10. Joe Biden strut gif
After President Obama finished his speech, he was joined onstage by the First Family and the Bidens. Uncle Joe came out strutting, looking like he was saying "EEEEYYYYYYYYYYY!!!" I love it.
So there you have it. The 10 best election night gifs. Which one was your favorite
P.S. Thank you, internet!
P.P.S. Check out my post on Election Day Was Nerve-Wracking But We Got Victory! TWO TERMS!