My Holland Taylor Story and Why ANN Rocked
Almost a year ago, I was loitering on Twitter talmbout randomness and being the fool I am when I got a tweet that made me almost fall out my chair.
I went to her page and saw the verified checkmark and ALMOST fell out my chair.
Holland Taylor thinks I'm funny! WHAT IS MY LIFE?!?
If you don't know who Holland is, you should. She's an actress who's been in the game for decades! I'm talmbout before some of us were even born. She's been in TONS of stuff. The woman stays working (you can see her IMDB page).
For the baby boomers, she was in Bosom Buddies in the 80s (with Tom Hanks). And for the younger folks, she was in The Practice (playing that judge who ain't take shit from anyone. And hey Dylan McDermott, hey). And the Truman Show with Jim Carrey. She played Charlie Sheen's mama on Two and a Half Men too. But you can't forget that she was Reese Witherspoon's tough as nails Law School professor in Legally Blonde. The one who side-eyed her into getting her life together.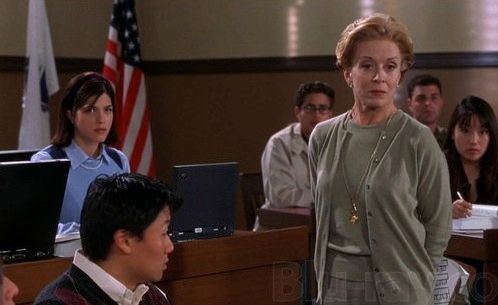 THAT Holland Taylor thought I was funny. Chile, I couldn't fave that tweet enough. It was May 3, 2012 and I made a new friend in an Emmy Award-winning actress (and comedic goon) I've admired for years. I could not believe it.
I don't know how she found me and I didn't even notice she was following me until I got that tweet and I was floored. You really never know who's reading your words (especially when you turn off your Twitter email notifications).
Me and Holland talk over Twitter pretty frequently. And apparently, she's been learning the lingo I use frequently (she's part of the reason I created that glossary of my terms). One day, she asked me what shade was.
@HollandTaylor Ah ok. Wells, #shade is the act of roasting someone or throwing sarcasm and side-eyes their way. It's an art

— Awesomely Luvvie (@Luvvie) May 5, 2012
@ReignOfApril @luvvieig HA Ha! I guess I have been! & I agree, it's an art, but I've had a long time 2 work on it. Glad to learn the image

— Holland Taylor (@HollandTaylor) May 5, 2012
She ain't e'em know she had been throwing shade for decades. But the fact that I taught her the phrase tickled me.
We've talked about so many things. Like when I got my nose ring, she showed me a pic of her tattoo. And I was all HOLLAND GOT A TAT?!? Like a real G she does. And she told me about the time she almost double-dutched and thought it'd be better for her to watch. She e'em gave me the recipe to her favorite martini (I'm not about that martini life, doe. I like my drinks fruity and sweet. Like liquid starburst). Or the time I was acting a good ass fool and she told me to go to bed OR ELSE… (and I went to bed because I could not win that battle).
I even got her watching Basketball Wives. I should be ashamed of myself for that but it ain't my fault. She saw me livetweeting it and now she DVRs it and watches when she can. I'm a bad influence sometimes.
@luvvieig Evelyn.Soo cool, collected. "We in Tahiti bitches" Keesha's coughing.Tami "just I get offended when someone coughs OUT like that"

— Holland Taylor (@HollandTaylor) June 3, 2012
Anyway, Holland is the homie, and I've wanted to meet her. We almost met last year when I was in LA for a week (working on a TV set. ANOTHER Twitter connection story) but I ended up spending the entire time in Calabasas and she was like 40 minutes away so that didn't happen.
Then the play she's been working on and performing around the country for 3 years, ANN, got on Broadway in New York at the end of last year. It was a huge deal for her and she'd been working her butt off on that play and it was getting such great reviews!
So many notables had already gone to see the play (Bill and Hillary Clinton, Senator Gabrielle Giffords, Meryl Streep).
I visit NYC relatively often. When I told Holland I was coming to NYC this weekend, she invited me to her show but told me not to tell her when so she wouldn't be distracted. Her wish was my command and on Friday, I went to the 8pm showing at the Lincoln Center with my bestie, TC.
ANN is an autobiographical one-woman play about Ann Richards, former governor of Texas and political dynamo.
Ann Richards came from a small town in Texas and dared to believe her dad's repeated affirmation that she was smart and could to anything. Well, that anything turned out to be becoming the first woman elected to become the governor of Texas (and only the 2nd female governor ever. First was Ma Ferguson in the 20s). She defied more than a few odds to win that seat, like being a recovering alcoholic, a divorcée and a Democrat in an extremely conservative state.
Ann was a woman who wanted to see the world more just and everyone treated fairly. But Ann stood out because she was no-nonsense, and was funny as hell. She could not help it. She had a potty mouth and loved dirty jokes but was still a gahtdamb lady.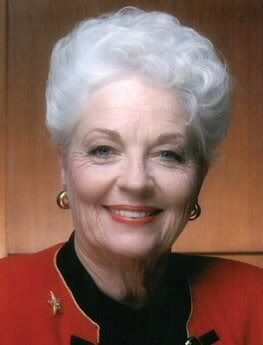 And that's what I loved the most about the play. ANN is a history lesson you don't mind learning. Because Holland's portrayal of Ann was awesome and filled with so much humor. I laughed out loud so many times during the show and if I could, I would have written down ALL the hilarious quotes. I do remember one:
"I get a lot of cracks about my hair, mostly from men who don't have any."
But the play was truly awesome because you forgot you were watching an actress on stage. Holland transformed into the character in a way that was just amazing. The accent, the mannerisms and little quirks and the look. She owned it, and became Ann Richards for those two hours. I loved it! And I could see why it has been extended through September 1. At the end, I wanted to learn more about this epic woman she portrayed. So dope.
Holland had arranged for me to come see her backstage afterwards. When me and TC were taken to the waiting section, along with 12 other people, I was excited that I'd finally get to meet her. I figured it'd be short, since she had to be exhausted and others were gonna meet her too.
As we sat there, someone comes up and says "Are you Luvvie? Holland wants me to bring you to her dressing room." It was her personal assistant. WHHHAAA?? Really?? And he took us down the hall to her room, where she was getting out of her wig and show stuff.
She gave me a HUGE hug! I told her how amazing she was in the show. She told us to feel free to sit and look around as she goes to change into some regular clothes. Her only warning was no pics of the letter from the White House. Duly noted. And YESSSSSSSS!!! Me and TC were like "OHMYGAH! WHAT IS LIFE?!? THIS IS AWESOME!"
When she finished getting dressed, I realized how tiny she was. Yes, *I* told her how little she was and she says she's lost weight doing this show. 8 shows a week will do that to ya. She is even supposed to be on voice rest when she's no onstage.
And then we took pics!
This picture was Holland saying "Let's look at her adoringly." And me being like "HA!"
Then we all leave her dressing room so she could go say hi to the others who were waiting. Holland ends up sitting in a circle with everyone and answering questions they had about the show. She introduced me as "Luvvie is a well-known bloggist. We met on Twitter a year ago and became fast friends."
I love that she called me a "bloggist" instead of blogger.
She chatted with the group for about 20 minutes, and then had to go rest her voice and body. But before we left, she took more pictures and signed folks' playbills. She put a bunch of hearts on mine before signing it. And we took one more pic for the road.
It was an amazing night. Dinner with my bestie, taking in the play (and acting like a cultured grown up) and meeting Holland. I was on cloud 9.
Life is wild. The fact that Twitter connected me to someone I have been watching in TV and film for years speaks to the power of social media. At it's best, it expands our world and can really change our lives. Meeting and befriending folks like Holland has been surreal for me. She found me, read my words and fell in love with my wit. This crazy web we weave! And she's a fellow Capricorn. WIN.
It's truly a blessing. Life can be so random and dope sometimes that you have to tell yourself to stop and soak it in. Like Ann Richards said "The here and now is all we have, and if we play it right it's all we'll need."
Thank you, Holland. <3