Something Came Unbuckled on Scandal: Episode 204 Recap
Listen. I know I say this every episode but I mean it EVERY TIME. I will give Shonda Rhimes and the Scandal writing team my last pink starburst AND the last piece of fried chicken! Chile… how do they manage to slay me each and every episode? LAWD!
Disclaimer: As always, don't read this if you haven't watched this episode and if you aren't ready for spoilers galore! 
Sleeping on a Baby Couch – The episode begins with the First Lady waking up the President on a couch in the nursery. She's kicked him out their room and out their bed because she doesn't wanna see his face. Plus, she's salty that he has during-the-night wood as he dreams of Olivia. WELP.
Abby's getting played – Abby's still sleeping with David and her goofass hasn't figured out that it's so he can get Olivia's secrets from her. When she leaves the room, he gets a phone call from his partner, Alissa, and it basically confirms my suspicions.
Where's Jenny? – Olivia's newest clients are the parents of Jenny, a college girl who has been missing for a couple of days. As Liv and team dig into Jenny's history, they find out that she's slept with a bunch of senators and is basically a Capitol Hill tip drill.
Wells, it doesn't take long for Olivia to discover that Jenny has been LEF FO DED in a woodsy area.
Pres. Ghost Gives No Dambs – Every episode, the President lets it be known how little of a damb he gives about the First Lady. This time, it's because some kid visited the White House and pukes on her. He sits in Mellie's room as she's being cleaned off. As he gets up and leaves, he goes "Is 20 minutes long enough to be fake worried about you?" OUCH.
Real Gs Have Immunity – Olivia and her team figured out that Jenny was killed by one of her lovers, a Kurkistan diplomat named Alexander Lavich. However, he has immunity so they can't bring him in for questioning, let alone arrest him.  Only way they could is if his immunity gets revoked by his government or the POTUS. So what does Liv do? She marches into the White House to go see her boo so he could pull the string needed.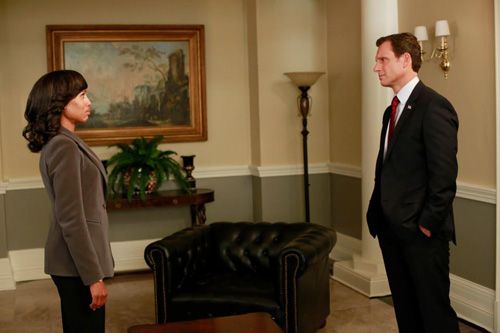 Color her surprised though, as the President shuts her down before she even says a word. OOP.
Protesters Pitch Tents – At Olivia's advice, Jenny's parents pitch tents on the White House lawn to protest the fact that their daughter's killer is roaming free because he's a diplomat. As it heats up, the President feels the pressure to make a move.
Abby and David are Parched – Abby's thirst for the southside slippery she's getting from David turns to dehydration, so she shows up at his apartment while he's away. She picks the locks, helps herself in and finds his wall shrine to Olivia. OOPS.
David's thirst to solve the case he lost that led to him losing his job was also showing. His obsession over what really happened with the Quinn case is at an all-time high, and he goes to speak to the head of a big oil company (Hollis Doyle) that he thinks will give him a clue. When he gets shut down, his curiosity only intensifies. He needs to have a seat and quit poking around!
Justice Vera Be Knowing – Remember the Supreme Court justice (Vera) that had something to do with the whole Quinn case? Wells, she's in the hospital now and Liv goes to visits her. She tells Liv that she notices that her and President Ghost "breathe in sync." As Madam Pope tries to deny it, her phone rings and it's from the White House. Old folks be knowing.
The Mellie-Liv Conspiracy – Turns out that the person who calls Olivia from the White House is the First Lady. I thought it was gonna be over Liv being her man's mistress. But it turns out that Mellie wants to help with the Jenny case by voicing her support as a fellow parent. Really, she was doing it to piss off her husband.
The next day, as Jenny's parents are protesting at the White House, the First Lady joins them and says she's not doing it at an official capacity but just as a caring parent. It was GENIUS and the President could do nothing but facepalm in his office. He tells Cyrus "I am the most powerful man in the world and I'm being brought to my knees by my wife and my… Olivia Pope." YUP! That sounds about right! That's what you get for messing with two incredibly smart and manipulative women who always get what they want. DEAL, Ghost!
Olivia's Biggest Loss Yet – As Olivia almost paces a hole through her office floor, Abby walks in to ask her about the Quinn case. She gets FIRMLY shut down by Liv, who shoos her out to take a phonecall in private. Abby seems butthurt about it, clearly feeling like she should be one of Liv's confidants. WOMP. NOPE.
Liv shows up to a restaurant that is cleared out very quickly by the Secret Service. She looks up and there's POTUS. He sits across from her and tells her that the best he could do was allow Alexander, Jenny's alleged killer, to return to his country. Liv is pissed and Ghost takes the opportunity to invite her on Air Force One with him as he travels to the G8 Summit. Wayment. You ain't get her what she wants, and now you want her to gallivant with you on the Presidential plane for a membership to the Mile High Club??? Sir, you got your nerve!
Olivia turns him down and his pride musta been hurt because he tells her ""Fine. We're done. I'm letting you go. That's what you want, right?" And then he tells her that he's married and has kids, so it's not right for him to be with her. Oh really??? REAL-DAMB-LY??? Now your marriage matters? It didn't before as you were slamming her against trees to give her a tongue check-up. He just wanted to break up with Liv on his own terms and that's some ol' boolsheet!
He leaves and our Pope breaks down in struggle tears. GIRL, you better put on your fuck'im dress and go clubbing!
Huck is bloodthirsty – Olivia breaks news of Alexander Lavich's impending departure from the country to Jenny's parents and they are devastated. There won't be justice for their daughter, and her father is beyond angry. There's a rage in him that Huck recognizes and confronts him about. After telling Jenny's father how he shouldn't go get a gun and some tools and kill the bitch who deserved it, I knew trouble was afoot.
Sure enough, as Jenny's dad gets ready to leave the house with a gun, he watches a news story saying Alexander was found dead in an accidental suicide. "Accidental suicide" is basically Huck's middle name. And he goes to his AA meeting and talks about how he saw the old him and loved it. HOMICIDAL HUCK IS BACK IN THE BUILDING! There is no more chill left in that man's body. This will not end well and I'm ready!
Benedict Arnold Abby – Abby steps into David's shower, surprising him, and says she's ready to talk all about Olivia. Clearly, she's salty about not being told everything that happens at the firm and she knows she can give up some juice to someone who is out to bring Liv down. SNITCHES GET STITCHES, ABBY!!!
David starts explaining how he thinks there's a huge conspiracy afoot and wonders how high it goes. This is when we cut to…
The League of Undercover Goons – Sitting around a table is Vera, Cyrus and Hollis, the head of the oil company that David had gone to speak with. And then Mellie walks in and I lose my mind. WHAT??? The first lady was part of the Quinn conspiracy too???
And then Olivia Pope walks in and I fell off my couch.
OMG!!! What is happening? WHAT. IS. HAPPENING? THESE GOONS ARE ALL TOGETHER??? This is like DC's version of X-Men!!!!
WHY ARE THESE WRITERS TRYNA MURK ME??? *throws a shoe against the wall* *runs around my house swinging my scarf over my head* *rolls around on carpet*
I thought last week's was explosive. NAWL! That was playground games compared to this one. CHILE… I was sweating like Wesley Snipes and Sheryl Underwood in a look-alike contest. THIS SHOW, LAWDT!
I can't wait until the next episode! I AM SO READY! But too bad I gotta wait for two weeks. Scandal won't be airing next week and the Country Music Awards will be airing in its place. I'm SUPER salty about that because I give no dambs about seeing Taylor Swift win more awards and fake surprise. I WANT SCANDAL! TWO WHOLE WEEKS THOUGH!
Ugh. Two whole weeks. I'll wait. I have no other choice. I'ma just be pouting but I'm HERE for Scandal ANYTAHM!
Seriously. Those last 5 minutes had me beside myself! Whatcha'll think of this ep?
P.S. I just launched a podcast called Ratchet and the Geek today with my homie Scott Hanselman, and we actually talk about Scandal in our first episode! Check it out HERE.